Web Based Applications
Advansys has a highly skilled award winning bespoke software development team. As such we are able to develop applications to suit your exact requirements using a plethora of industry standard application tools and technologies. Advansys specialise in delivering bespoke web development projects using the latest software programming languages and techniques. As a specialist web development company we are able to provide you with an ecommerce solution exactly to your requirements, below are just some examples of our recent projects that our highly qualified developers have successfully completed:
Customer Relationship Management Solution
Yakult approached Advansys to design and develop a brand new bespoke web based customer relationship management application to replace their current, out dated desktop software application. The scalable application has a logical flow and an intuitive interface for ease of data entry and reduction of re-keying/ duplication. The Yakult CRM application is a multi channel transactional solution and stores the data via an ASP.NET model database. Yakult now have the ability to log further details against all of their customers, enabling them to track a particular customer's history at any point in time, ultimately providing Yakult with a better insight into consumer behaviour. Additionally, the customised solution is integrated into a third-party data cleansing app called Experian QAS, which gives Yakult the ability to clean their data with a click of a button consequently keeping their customer records up to date and allowing them to target the appropriate consumers with marketing campaigns.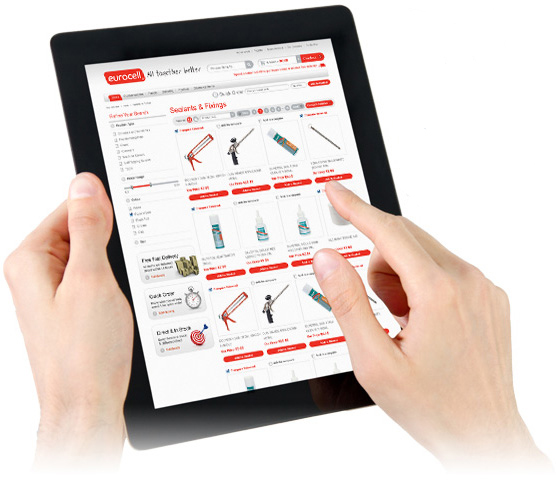 Price Matrix & Product Attributes Module
The Advansys team of developers have developed a bespoke price matrix template module for JPR Electronics. The price matrix web based module allows JPR to apply price variations to an individual product online, allowing them to offer their customers discounted prices depending on the quantity of the order. Each price matrix is templated allowing JPR to save time when creating new products via this app. Advansys also designed and customised a product attribute template module which allows JPR to add unlimited defined product values to a range of products at the click of a button, saving JPR valuable time when constructing new products to be instantly viewed on their website.
Workflow Management Application
The Advansys web based workflow application allows Yakult to successfully manage their "healthy living" customer program incorporating an interactive user portal and high level management interface to better understand consumer behaviour. This software application has been developed using the latest technologies and tools, resulting in the ability to continue and develop this app as Yakult's business requirements change.
Customer Relationship Management Application
SkiphireUK approached Advansys to develop and bespoke an entire online platform capable of handling incoming requests from multiple channels and storing within a centralised database facilitated via an ASP programming model. The scalable solution manages all aspects including customers, suppliers, quotations, orders and reporting and was pivotal in enabling the company to achieve exponential growth from zero to multi-million pound turnover within 3 years.
Quotation Management Application
Advansys has devloped a quotation management application that enables you to create quotation templates allowing your sales team to instantly send out quotes via the internet knowing that they are formatted in a professional manner and without the need of wasting time and money on unnecessary paperwork. The bespoke software application has been customised to allow different sales executives to use different quote templates
Support Desk Management
Advansys Support Desk Management (SDM) is a web based application that can manage all aspects of customer support requests. It is designed to log all incoming support requests so they can be handled and controlled via this bespoke software application and every interaction with a customer will be recorded for future reference. It allows you to track all requests by a ticket number, which are automatically linked against the appropriate customer as soon as they are processed by the customised software programme.
Multi Channel Retail Application
As multi channel retail businesses desire a fully integrated view of their customers and a seamless operation from their customer's standpoint the Advansys multi channel retail application is the ideal software solution. By using this application as part of your internet business the customer has the same user experience whether it is via the phone, mail order or the web resulting in a loyal customer base.
Enterprise Management System (EMS)
With the Advansys EMS application you can manage customers, relationships, interactions, projects, tasks and services from one single centralised web based application. Run your business more intelligently and access data and reports anytime, anywhere via a web browser. The Advansys EMS app can be customised to meet your growing business requirements and reports can be seamlessly developed to give you valuable data at a click of a button.
eNotes Bespoke Application
Icubes explained to Advansys that their communication to their customers was below par. The Advansys eNotes application has been devloped to allow a customer to send a message electronically via the internet directly to Icubes and Icubes can instantly respond but more importantly all communication is logged in the centralised database. This has helped Icubes and their customers to quickly and easily discuss product returns, track orders and deal with general product queries via their ecommerce website.
Electronic Signature Applicaion
The Advansys eSignature software application is suitable for use within a web browser or application. Signatures can be captured electronically and images saved locally or transmitted to a remote server via a secure socket on the internet. A signature image file can be subsequently embedded within dynamically created PDFs document saving time and money. Latest software programming languages have been used to develop this flexible and highly scalable application.
Iisauth Software Solution
Advansys IISAuth ISAPI Authentication Filter secures folders on IIS web servers whilst providing complete independence from the need to create Microsoft Windows user accounts. This developed software application supports customised realms and secures multiple websites with unlimited users and folders. The beauty of the architecture of this application is that it is robust, stable and highly scalable.
References can be provided on request if required. Don't simply take our word for it, read what one of our clients says with regards to a bespoke software development project that Advansys has successfully delivered below:
Most people don't recognise the importance of digestive health and why the gut is so important to overall health. The 'SDFYGP' (self defence for your gut programme) was set up to help explain the importance of gut health and to get people to think about how we treat our gut and educate them. We approached Advansys as we wanted a flexible solution that presented the information in a format that is easy to use and give people the flexibility to access the data at any time that suited them. Overall we are really pleased with the way that the Advansys application is working for us and the increased visibility that it has given our business.' H Ponaich - Yakult
Because no two development projects are the same please contact us to see how we can help bring your software to life.
For more information on our bespoke web development projects contact us
Reviews
What Our Customers Say
My Website of almost 20 years crashed and all was lost. The world was at an end for Easy Care Systems, BUT….. Advansys to my rescue. Awesome, Brilliant, Fantastic. I could not rate Advansys high enough and I wish there were more stars to rate the company and the team. From scratch to over 500 products with custom coding and constant emails and phone calls from me they pulled it out of the bag. Thank you to the brilliant team that worked so hard on the NEW and improved Easy Care Systems website. "ADVANSYS I thank you"
Easycare Systems Ltd
We have had our website with Advansys for a few years now, it was a breath of freshair working with the team and updating our tired website. Recently we have wanted to add some extra modules. It was good to be able to speak with the to explain what we wanted and to work with them again.
Trident Engineering Ltd
Really helpful team who explain everything clearly and concisely and are always available to assist with issues as and when they arise.
Ledbury Town Council
We have been working with Advansys for a number of years now. Recently, we asked them to implement an integration for an automatic e-signature process (in order to streamline our operations). Advansys stepped up to the Challenge, with the team communicating with ourselves and the e-signature provider, in order to deliver a great integration. They also supported us post-go-live to ensure everything was stable.
Reach Centrum Ltd
Writing reviews is something I'm not known for, but in the case of Advansys, it has to be said that after years of experience dealing with companies that fail to deliver the right services, Advansys just nail it. Looking to develop and progress our business further, we tasked Advansys to design & build an extremely complex website. The team listened to our needs, gave good constructive feedback, and delivered what can only be described as the most well designed and slick website our company has ever seen. We look forward to working long-term with Advansys, and have already begun planning the next phase of development for our business.
Forth Windows Ltd