Multichannel eCommerce is an online marketing strategy; one which more and more companies are choosing to take advantage of. Whilst being able to promote your business, and offer your products, through various retail channels is a massive advantage, it can be an incredibly difficult thing to successfully manage.
Only through the integration of a cross channel eCommerce solution, which combines the management of every channel into a single interface, can you effectively control all of your retail efforts.
As the online marketplace continues to become more and more competitive, Advansys believe that this synergetic approach to online marketing is the way that eCommerce must always work.
Bespoke development and industry-leading technology need to combine to create an entirely streamlined selling process, one which provides an intuitive, consistent service to your customers, whilst encouraging much simpler business management.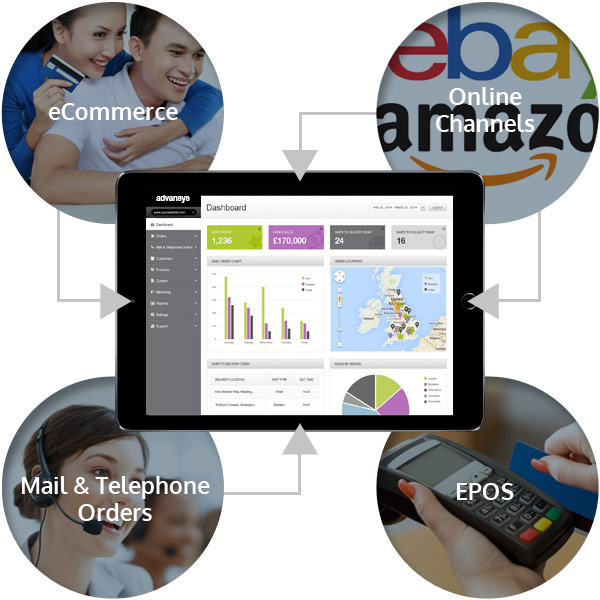 Saving Your Business Time And Money!
One of the core principles that every successful business shares is the idea that time equals money. A content management system which controls every aspect of your business is the ultimate in time-saving technology and, therefore, the ultimate money-saving technology. With every channel that you use feeding back into a central systems, there is no need for you to switch between multiple channels when managing your online retail.
Simplifying Your Business Management Systems!
As any experienced business person will know, effective and reliable control of stock is one of the most difficult components of retail management.
The management of stock across multiple retail channels can be incredibly difficult. Without a single interface to simplify the entire procedure, you run the risk of offering a sub-standard service, which can permanently damage your reputation with your customers.
Over and under representations of stock can be equally damaging to your business. Only by accurately portraying the amount of products that you have available can you ensure that you are not disappointing your customers. Honesty is one of the best ways to encourage the likelihood of your traffic's eventual conversion resulting in an increased sense of transaction satisfaction, and an increase in subsequent brand loyalty.
Maintaining A Consistent Brand Identity!
Retail listings which have been created through our industry-leading Cross-Channel CMS are created via a template, your branding efforts, on-page content and product images can be made completely consistent. With no variation between your various retail presences, you can create a synergetic appearance which works to promote your business' reputation as a reliable online presence.
The ability to represent your business effectively through every available channel gives you the opportunity to massively improve your online exposure, and create a much larger area of influence from your single, intuitive content management system.
For A Cross-Channel eCommerce Solution, Choose Advansys Today!
To encourage your business' natural growth you need to be taking advantage of Advansys' high-performing cross-channel CMS. Whether you're a start-up, looking to expand into online retail, or a pre-established business looking to streamline and increase the efficiency of your management systems, then Advansys' experienced team is here for you.
Once your content management system has been introduced to your business, it can be improved with subsequent modules. Constant innovation and adaptation can work to ensure a long life for your management systems; a lifetime which will be reflected in the success and growth of your business.
Every kind of business, of every size, can benefit from a bespoke eCommerce solution; from making orders easier to fulfil to controlling virtual stock distribution, the possibilities are endless when it comes to industry-leading content management systems.
If you would like to make the most out of Advansys' experienced team, to encourage your business' natural growth into the exciting world of online retail, contact us today on 0118 380 0201. If you'd prefer, you can email us at sales@advansys.com, and we will get back to you as soon as is convenient for you!
Reviews
What Our Customers Say
My Website of almost 20 years crashed and all was lost. The world was at an end for Easy Care Systems, BUT….. Advansys to my rescue. Awesome, Brilliant, Fantastic. I could not rate Advansys high enough and I wish there were more stars to rate the company and the team. From scratch to over 500 products with custom coding and constant emails and phone calls from me they pulled it out of the bag. Thank you to the brilliant team that worked so hard on the NEW and improved Easy Care Systems website. "ADVANSYS I thank you"
Easycare Systems Ltd
Writing reviews is something I'm not known for, but in the case of Advansys, it has to be said that after years of experience dealing with companies that fail to deliver the right services, Advansys just nail it. Looking to develop and progress our business further, we tasked Advansys to design & build an extremely complex website. The team listened to our needs, gave good constructive feedback, and delivered what can only be described as the most well designed and slick website our company has ever seen. We look forward to working long-term with Advansys, and have already begun planning the next phase of development for our business.
Forth Windows Ltd
We have had our website with Advansys for a few years now, it was a breath of freshair working with the team and updating our tired website. Recently we have wanted to add some extra modules. It was good to be able to speak with the to explain what we wanted and to work with them again.
Trident Engineering Ltd
Really helpful team who explain everything clearly and concisely and are always available to assist with issues as and when they arise.
Ledbury Town Council
We have been working with Advansys for a number of years now. Recently, we asked them to implement an integration for an automatic e-signature process (in order to streamline our operations). Advansys stepped up to the Challenge, with the team communicating with ourselves and the e-signature provider, in order to deliver a great integration. They also supported us post-go-live to ensure everything was stable.
Reach Centrum Ltd