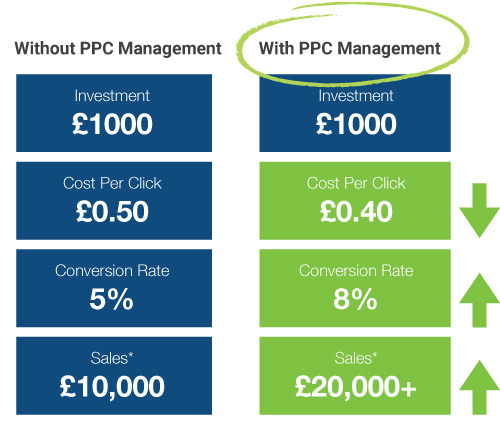 Why do I need an agency to manage my PPC?
PPC advertising means that you only pay when people actually click on your advert. However, as the cost for each click can vary, without the right knowledge your Cost Per Click can soar. PPC management allows you to get more from PPC by refining the campaign to reduce the cost of each click, whilst increasing the volume of conversions.
The value of having PPC Management is illustrated within the diagram on the right. When setting up a PPC campaign yourself you might see some success, however, when working with a specialist PPC account manager from advansys, not only do you free up time to focus on growing your business, you also gain access to someone that works on PPC every day. This means your PPC campaign can be continually refined and improved by an experienced expert, to increase your profits.

Pay-Per-Click: Frequently Asked Questions
Pay-Per-Click advertising (PPC), otherwise known as sponsored search placement, is an effective way for business to buy their placement at the top of every major engine, including Google, Yahoo! and Bing. Tens of thousands of business choose to take advantage of the affordable, targeted leads which have been provided through this essential advertising strategy.
Pay-Per-Click advertising can be confusing, particularly to those who are new to digital marketing or online retail. The chances are you've seen examples of PPC in your everyday searches, whether you're on the lookout for products or services. When you choose to engage an experienced team of digital advertisers, you can enjoy the fantastic benefits of your advertising being placed at the top of relevant search engine results pages (SERPs).
To help you get to grips with the basic principles of PPC marketing, we have put together an easily understandable FAQ. So, whether you're considering taking advantage of our incredible PPC Training course, or you want to understand the basics before engaging a professional service, our FAQ is here for you.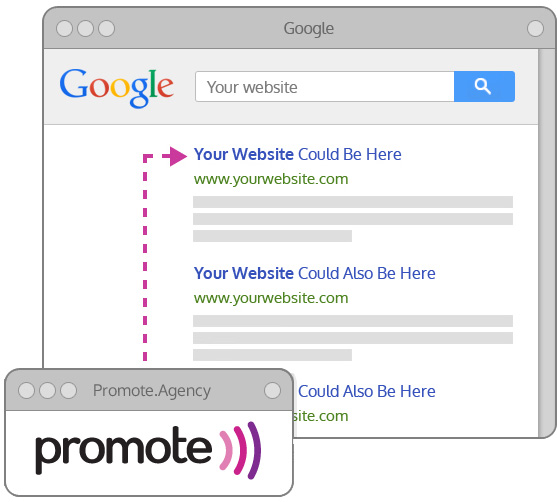 How Does PPC Work?
Sponsored search engine placement is an effective way for advertisers to complete for high rankings in SERPs in an auction-style environment. The highest bidder, for each specific term, will receive the highest listing on the results pages of participating search engines, including Google and Bing.
PPC is unique in that you only need to pay for your advertising when it is actively consumed by potential customers; you will only pay your auction price when a member of the audience actually clicks on the link to your website or landing page.
What Determines My Position On The SERP?
Your adverts position on the SERP is reliant on the amount that you bid for that specific term. The amount required to attain results is determined by your competitors' bids, and you can choose whether you want to appear in top position, or lower in the search results.
Remember, when picking out your bid, that your competitors might also change their bids in response to yours, meaning that they could rank higher than you. Picking out the perfect PPC ad location can be an important decision, and it can drastically alter the amount of traffic that your site attracts.
If, for example, your PPC term is 'London Estate Agency', and a competitor is bidding £0.50 for that term, than you would be required to bid at least £0.01 extra, making your bid at least £0.51, if you want your advert to appear above your competitors. This means that, for every customer that engages with this advertising to visit your website, you will be required to pay your bid amount.
Bids can be changed in real-time by as much as one-penny increments; this means that your competitors can rank above you by raising their bid, and vice-versa. PPC is a competitive and rapidly changing environment that requires constant attention in order to maintain the desired search placement. One of the major dangers of a poorly-managed PPC campaign is to ensure that you remain in budget, whilst attracting relevant and converting traffic.
So, How Much Do I Have To Pay When Someone Clicks On The Link To My Website
When a customer engages with your advertising, you will pay the fee associated with the specific term – the typical requirement is £0.10 and up. You can set the maximum bid that you are willing to pay, for qualified leads, or to establish a range of different bids for your individual phrases. These phrases are created as a result of in-depth keyword research, similar to that which takes place for search engine optimisation purposes.
Some terms may only require a £0.10 bid, but the more popular and effective a keyword is, the more competition you are likely to endure.
Where Will My Listings Appear On The SERP?
Every search engine will display their sponsored results in different locations, and they will display a different amount of results depending on their design. Most search engines will display the highest ranking ads at the top of their search engine results feed, and many will also display them at the bottom of the page, or in a dedicated banner running down the right-hand side of the page.
Whilst you cannot control where the search engine displays their sponsored results, the most rewarding ads always achieve the most favourable placement. Since PPC marketing is one of the main ways that search engines make their money, the search engine will always be more favourable towards the higher paying advertisements.
What If Someone Clicks On My Advert Multiple Times
All trustworthy search engines have mechanisms to prevent fraudulent charges, often as a result of repetitive clicking on the same link. The most innovative and sophisticated review software ensures that advertisers, such as you, will not be charged for invalid or repetitive clicks. They utilise a wide range of techniques to filter the clicks before they show up as a charge. This is one of the most important issues faced by search engines, which is why they have loss-prevention departments which are dedicated to protecting advertisers. Ensuring the security and integrity of their search engine as an advertising system is high up on the list of their priorities.
Recognising invalid clicking scenarios has become second nature to these search engines, and intelligent algorithms prevent these scenarios from affecting the price or efficiency of an advertiser's presence. Much like the stock market, these companies have a vested interest in running a completely fair and reliable marketplace and so they make every effort imaginable to weed out invalid clicks.
How Much Will PPC Services Cost Me?
If you are interested in taking advantage of high-performing and reliable pay per click marketing strategies, then we will begin with an entirely free consultation to discover if this is really the right strategy for you. Our PPC experts will guide you through every step of the process.
After the conversation, we will be able to tell you whether PPC will have any benefits to your company. At that time, we will answer any questions and work through any worries that you might have.
Only once you have agreed, and fully understand the advantages of starting a new PPC account, can we begin to advertise your business through the wonderful advantages of online advertising.
PPC Advertising Charges
It is important to remember that you are responsible for the fees generated by the engagement of your customers with targeted leads. These fees are paid directly your chosen search engine; for example, Google.
At Advansys, our flat fees encourage us to maximise the results of your account's performance so that you will be able to enjoy all the benefits of a successful campaign, and continue to enjoy the advantages of our high-converting PPC services.
Our PPC program is designed to maximise your ROI (return on investment) and to dramatically boost your bottom line. Because of this, we operate our PPC on a monthly basis – if your business has stopped receiving the benefits of PPC, then you can discontinue your sponsored advertising service at any time.
But Can I Rank Highly, If I Only Have A Low Budget?
It is not just the cost per click that is considered when sponsored advertisements are ranked – you must also be able to boast a high quality-score. This is how search engines rank your ads by their relevance and overall campaign quality. Without a high quality score, it doesn't matter how high you raise your bids, you still won't rank highly as you need a combination of the two to make the most of this marketing strategy.
Here at Advansys, we are proud to say that we have the techniques and the knowledge to optimise your campaign, your individual ads and the keywords that you are targeting. With our professional PPC services, you don't need to maximise your budget, just to rank highly.
For more information, on the latest sponsored adverting techniques, contact Promote.Agency directly today.