As one of the UK's leading digital marketing and eCommerce providers, we are proud of the incredible services that we offer to every business that we work alongside. From multinational corporations to small, family-run businesses, we ensure that we offer the same high-level of service to each and every company.
If your business is primarily run through eBay, one of the largest online marketplaces in the world, then you cannot afford to offer an unprofessional looking storefront.
Even if eBay is just one of the many avenues of commerce that you are taking advantage of, promoting a sense of authority and coherency between this and every other online presence that you offer is essential if you want to convince your users to convert into paying customers.
With professional eBay store designs, you can enjoy the fantastic advantages of a completely unique storefront which makes a lasting impression on traffic, and works to stick your brand in the mind of your potential consumers.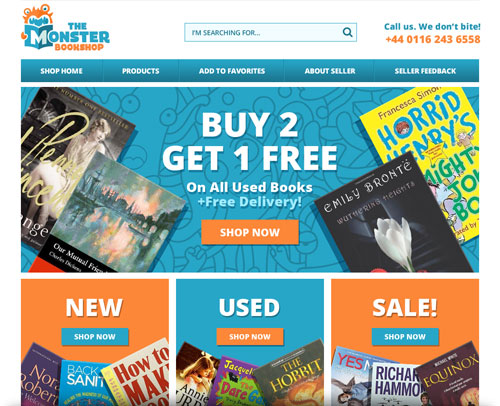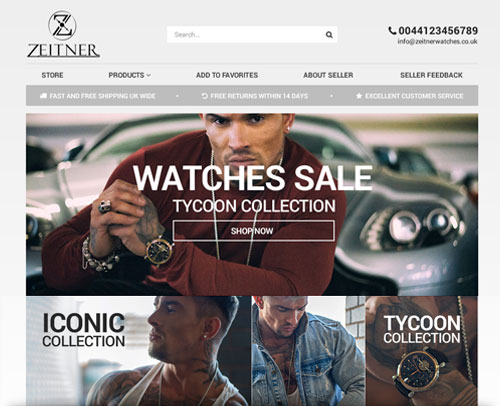 Stunning eBay Store Design Templates
By keeping your brand identity in mind throughout the entire design process, we can create a storefront that is perfectly in keeping with your corporate branding and remains in-line with the design of your main website (if you have one!). Making sure that your eBay site looks professional is one of the first steps when convincing traffic to buy from your business. Ensuring that your business looks trustworthy, and is seen as an authority on the products that you are selling, is essential when increasing your sales and growing your business in a natural fashion.
Here at Advansys, every one of our eBay shop designs is completely integrated with eBay itself, which allows you to continue using their interface to control and adapt products, categories and promotional boxes.
Alternatively, if you do happen to enjoy the wonderful advantages of a complete eCommerce system, than you can include an eBay integration module into your overall solution. This would mean that you can manage each and every one of your store's components from your site's dedicated content management system, and your eBay presence will be dynamically updated as well!
How Would I Benefit From A Professional eBay Shop Design?
eBay stores have greatly increased in popularity over the past few years. Most companies, particularly smaller businesses, utilise the eBay marketplace as a fantastic way to generate a little extra income. However, with so many businesses and freelancers, and so competitive an atmosphere, it can often be extremely difficult to stand out from the crowd.
Many eBay stores suffer from a tragic lack of design and attention, making them appear uncared for. The eBay templates themselves, to which your store automatically reverts, can often look cheap and untrustworthy, and will have a negative effect on your users' likelihood to engage with your business. Whether it is because of a lack of high-quality product images, grammatically incorrect product descriptions/store content or simply because your overall site does not look trustworthy, there are dozens of reasons why an unprofessional eBay design can be hugely damaging to your business.
When you choose to take advantage of a professional design, you are offering your business a wide range of advantages which can dramatically increase your overall profitability.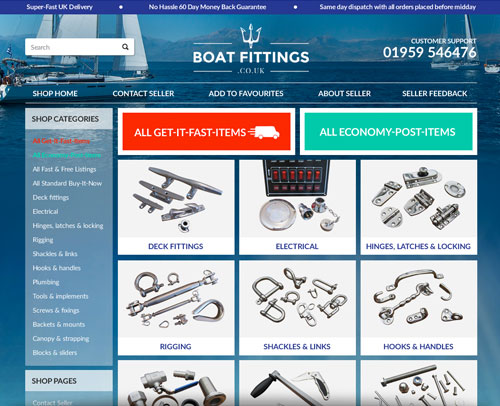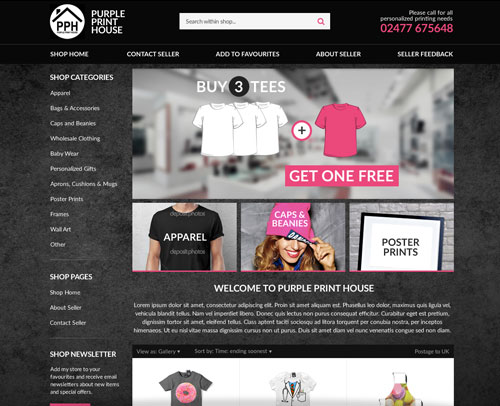 eCommerce Brand Identity
Creating a distinct and trustworthy brand identity is essential for any business' survival in the digital age. A professional and well-presented brand persona can generate trust and interest in your eBay store, and work to make you presence stick in the mind of potential or paying customers.
Once you have gained your customers' trust, then they are more likely to be inclined to purchase from you. This brand identity is essential to the survival of any business, and it is one of the few ways to effectively make your company stand out from the crowd. Your brand identity is likely to develop as your business continues to grow, and can make a huge difference if you ever come to own your own eCommerce website.
Displaying Your Products In The Best Light
Any business that sells products needs to display the products in such a way that the customer can clearly see the item's quality, understand its features and truly be confident that they are choosing the right item for them. This is hugely important in online retail, as customers will not have the product in front of them to hold, and ensure that it is the perfect model for them.
Images are amongst the most important component of an eBay store, and ensuring that they are of the very highest quality is essential to creating a high quality eBay design.
For High-Quality eBay Store Design; Contact Advansys
Here at Advansys, we have extensive experience in the creation of high-quality web designs to ensure that your business makes the most out of every retail channel to improve its profitability. We love to see our clients grow from humble beginnings into highly profitable companies, not least because that means we've done our job well.
We work alongside our clients to create high-quality and trustworthy eBay store designs to ensure that each and every business is given the perfect online retail solution for them.
For more information, contact us directly on 0118 380 0201 or email our friendly and knowledgeable team at sales@advansys.com.
Reviews
What Our Customers Say
Writing reviews is something I'm not known for, but in the case of Advansys, it has to be said that after years of experience dealing with companies that fail to deliver the right services, Advansys just nail it. Looking to develop and progress our business further, we tasked Advansys to design & build an extremely complex website. The team listened to our needs, gave good constructive feedback, and delivered what can only be described as the most well designed and slick website our company has ever seen. We look forward to working long-term with Advansys, and have already begun planning the next phase of development for our business.
Forth Windows Ltd
We have had our website with Advansys for a few years now, it was a breath of freshair working with the team and updating our tired website. Recently we have wanted to add some extra modules. It was good to be able to speak with the to explain what we wanted and to work with them again.
Trident Engineering Ltd
Really helpful team who explain everything clearly and concisely and are always available to assist with issues as and when they arise.
Ledbury Town Council
We have been working with Advansys for a number of years now. Recently, we asked them to implement an integration for an automatic e-signature process (in order to streamline our operations). Advansys stepped up to the Challenge, with the team communicating with ourselves and the e-signature provider, in order to deliver a great integration. They also supported us post-go-live to ensure everything was stable.
Reach Centrum Ltd
My Website of almost 20 years crashed and all was lost. The world was at an end for Easy Care Systems, BUT….. Advansys to my rescue. Awesome, Brilliant, Fantastic. I could not rate Advansys high enough and I wish there were more stars to rate the company and the team. From scratch to over 500 products with custom coding and constant emails and phone calls from me they pulled it out of the bag. Thank you to the brilliant team that worked so hard on the NEW and improved Easy Care Systems website. "ADVANSYS I thank you"
Easycare Systems Ltd