e-Commerce Features and Functions
Advansys have a proven track record in helping clients turn internet business ideas into a reality: successul and profitable online businesses are what we consistently build. The Advansys ecommerce solution is the engine behind this which does not compromise on functionality and is intuitive and easy to use. The added benefit of our ecommerce website solution is that the creative design of the website is unique to your business allowing you to stand out from the rest of your competition. Additionally, all the integration needed for acceptance of credit and debit card payments online is all taken care of for you, either by our own ePayments service or a wide selection of supported third party payment gateways.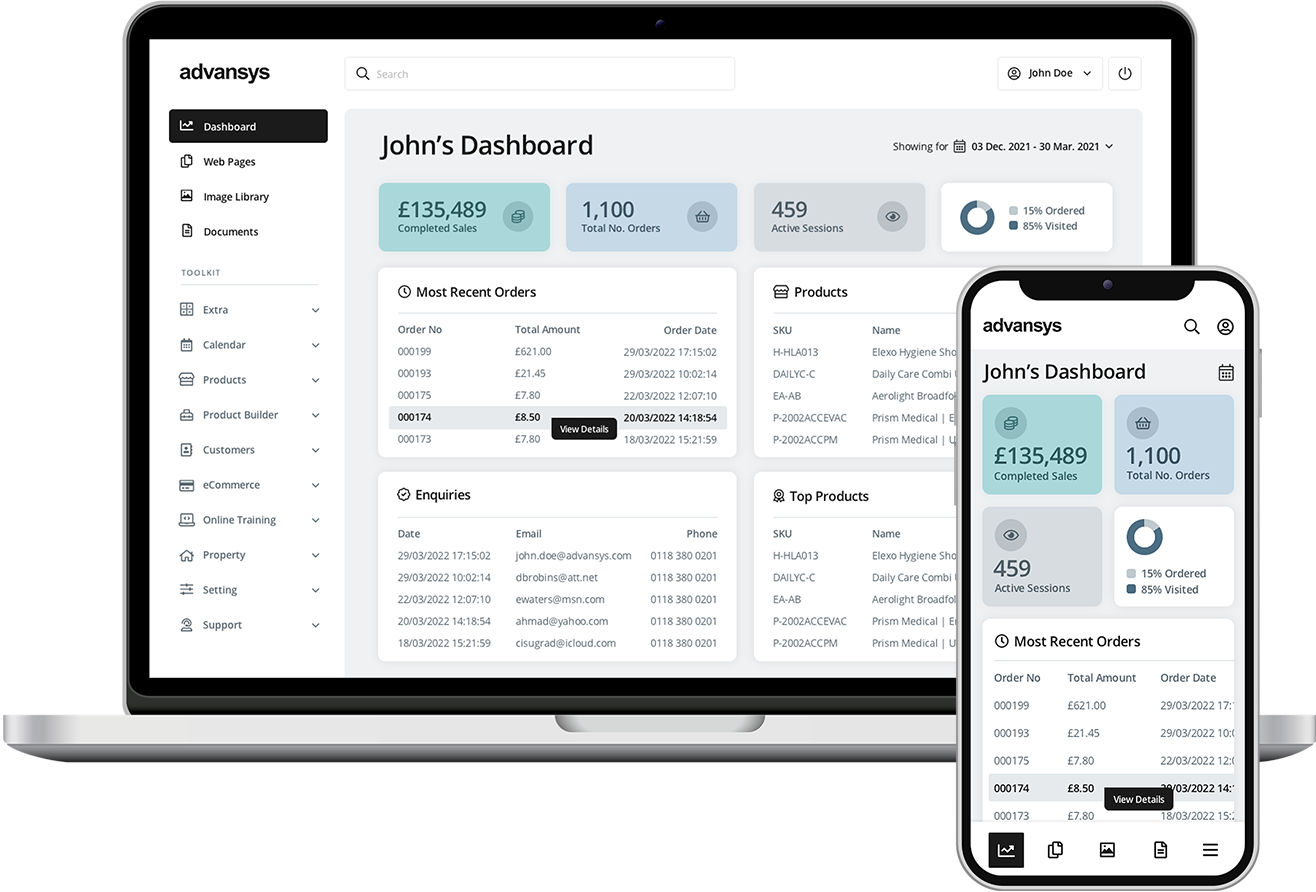 Scalable eCommerce
The Advansys ecommerce framework is a highly scalable platform providing you with a flexible ecommerce solution that allows you to pick and choose ecommerce modules as and when your business grows. Why is this important? Well initially we understand your ecommerce project may have initial budgetary constraints, however, by choosing our e-commerce solution you will be making an investment in your online store that can be built upon in future. At Advansys we have a team of ecommerce specialists who specialise in building robust ecommerce platforms using a wealth of programming languages, such as ASP, .NET and Web Services.
The table below illustrates the core features of our e commerce framework.
| eCommerce Framework Standard Features | |
| --- | --- |
| contemporary ecommerce website design | |
| web based administration (CMS) for easy real time updates | |
| website content - add, edit, & delete unlimited number of pages | |
| product catalogue - add, edit, & delete unlimited number of prodcuts | |
| ability to add up to 5 images for each item to showcase your product with enlarge, main & thumbnail versions of each | |
| automatic image resize - no need to manually resize every image | |
| product search facility (department, category, part number, description, brand) | |
| 'breadcrumb' trail showing where the user is within the site | |
| ability to add banners to highlight promotional offers | |
| online & off-line facility for products so they can be prevented from being displayed on the website | |
| complete ecommerce shopping cart facility | |
| customer management - automatically capture your customer details | |
| order management, order processing | |
| HTML invoice production | |
| label generator for use when shipping goods and mailing customers | |
| ability to assign options to products (colour, style, size, format) with price differentials | |
| ability to display associated and alternative products | |
| ability for customers to log into their account and check order history, tracking etc.. | |
| integrated credit/debit card facility with a choice of payment service providers | |
| support for Advansys ePayments, HSBC Secure Payments CPI, Barclays ePQD CPI, Protx or Secure Trading (Merchant ID required) | |
| alternatively support for Google Checkout, WorldPay, PayPal or NoChex (no Merchant ID required) | |
| separate billing & delivery address | |
| realtime reporting and statistics - e.g best selling products | |
| add to mailing list | |
| google analytics tracking & conversion code | |
| daily database backup | |
| search engine submission & optimised page links | |
| 12 months free hosting www.yourbusiness.com | |
| POP3/IMAP4 email with Anti-Virus and Anti-Spam, yourname @yourbusiness.com | |
| web based mail facilty to allow you to check your email remotely | |
| free domain name or transfer of existing domain name | |
The table below illustrates different ecommerce modules you can pick and choose.
| eCommerce Modules | |
| --- | --- |
| promo code module | |
| gift voucher module | |
| tell a friend about a product module | |
| image zoom capability | |
| white label version | |
| single page check out | |
| delivery rules calculated by weight | |
| multi currency | |
| product reviews | |
| gift wrap and gift message module | |
| wish list module | |
| SMS integration | |
| Sage invoice module | |
| parcel tracking integration | |
| product bulk upload/export | |
| CRM module | |
| quotation module | |
| bundle module | |
| enhanced/customised reporting | |
| video and interactive demonstrations | |
| blogs & forums | |
| RSS integration | |
| XML system integrations | |
| EPOS integration | |
| MOTO integration | |
eCommerce Solution Demo
View some comprehensive demos of our Advansys Ecommerce CMS and Advansys ePayments Gateway.
Why Choose Advansys As Your eCommerce Supplier?
There are many factors which set us apart from our competition. Here are just a few reasons why you should choose us:
Proven track record at creating successful, profitable ecommerce web sites
Flexibility and adaptablility of our solutions. We can customise your solution as you grow or your needs change
Personal service via a dedicated account manager
Good old fashioned customer service
Knowledgeable and friendly staff
ecommerce experts
We deliver professional and quality results
Ecommerce specialists
Excellent value for money!
References can be provided on request if required. Don't simply take our word for it, read what one of our clients says below:
Advansys have been an integral part of the success of Hiccup over the past 3 years. From the initial design and set up of the website to more recent crucial website developments like the integration of the MOTO Module, which enables us to process customers orders and payments over the phone and via Mail Order, Advansys have enabled us to offer a more efficient and extensive service to our customers thus fuelling the growth of the business.
D Heptonstall - Hiccup Gifts
For more information on our ecommerce solutions contact us
Reviews
What Our Customers Say
We have had our website with Advansys for a few years now, it was a breath of freshair working with the team and updating our tired website. Recently we have wanted to add some extra modules. It was good to be able to speak with the to explain what we wanted and to work with them again.
Trident Engineering Ltd
My Website of almost 20 years crashed and all was lost. The world was at an end for Easy Care Systems, BUT….. Advansys to my rescue. Awesome, Brilliant, Fantastic. I could not rate Advansys high enough and I wish there were more stars to rate the company and the team. From scratch to over 500 products with custom coding and constant emails and phone calls from me they pulled it out of the bag. Thank you to the brilliant team that worked so hard on the NEW and improved Easy Care Systems website. "ADVANSYS I thank you"
Easycare Systems Ltd
Really helpful team who explain everything clearly and concisely and are always available to assist with issues as and when they arise.
Ledbury Town Council
Writing reviews is something I'm not known for, but in the case of Advansys, it has to be said that after years of experience dealing with companies that fail to deliver the right services, Advansys just nail it. Looking to develop and progress our business further, we tasked Advansys to design & build an extremely complex website. The team listened to our needs, gave good constructive feedback, and delivered what can only be described as the most well designed and slick website our company has ever seen. We look forward to working long-term with Advansys, and have already begun planning the next phase of development for our business.
Forth Windows Ltd
We have been working with Advansys for a number of years now. Recently, we asked them to implement an integration for an automatic e-signature process (in order to streamline our operations). Advansys stepped up to the Challenge, with the team communicating with ourselves and the e-signature provider, in order to deliver a great integration. They also supported us post-go-live to ensure everything was stable.
Reach Centrum Ltd