The advansys eCommerce platform allows you to manage orders from multiple shopping channels via a single, easy to use interface...
What Is Multi-Channel eCommerce?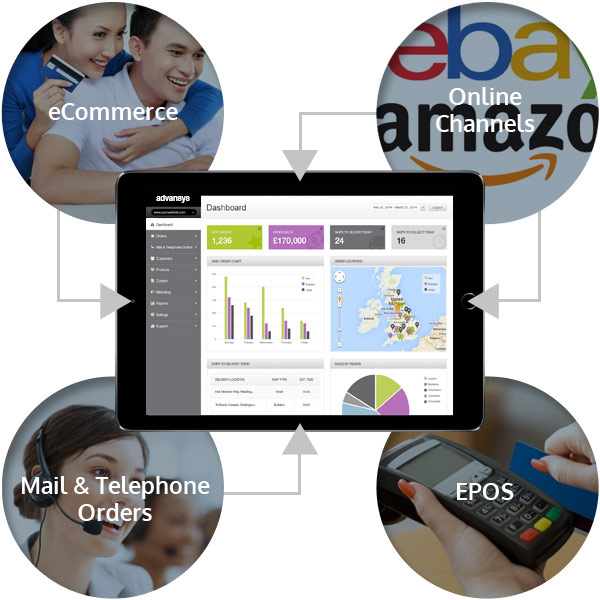 Multi-channel eCommerce, often known as cross-channel retailing, is an all inclusive marketing and commerce strategy that an increasing number of businesses are starting to take advantage of. A Cross-Channel eCommerce platform gives your business the opportunity to sell your products through every available sales channel, whilst allowing you to view and manage all orders from a single, easy to use interface.
These sales channels can include Amazon, eBay, Rakuten, along with more traditional methods such as Mail Order and Telephone Order (MOTO), and Electronic Point of Sale (EPOS).
The eCommerce framework that Advansys provides enables your business to incorporate a much wider range of transactions from all of the above retail points into one, centralised location. This can include Sales Orders, Products and Returns, Suppliers, Purchase Orders and even Customer Details. By combining all of this retail-necessary data into one central database, you are able to effectively manage your eCommerce business, independent marketplaces, retails stores all at once, whilst simultaneously streamlining your business' internal processes and reducing your overall cost. At Advansys, our multi-channel eCommerce software has proven to improve the cost-effectiveness of businesses from a wide range of industries, and simplify the entire cross-channel eCommerce process.
Make Multichannel Retailing Easy: eBay, Amazon and Rakuten
Managing multiple sales channels separately can be both costly and time consuming. The advansys eCommerce platform allows you to streamline processes and save time and money by giving you a tool to manage sales from all channels through a single interface. We integrate with and recommend the following sales channels:

eCommerce Store
By maintaining an effective eCommerce store to sell your products online, you are offering a stable, secure location for your customers to visit. Maintaining a stable online platform is essential to ensuring a business' eCommerce longevity.
Already, eCommerce has started to surpass traditional, physical retail, and experts say it will only continue to grow in strength as more and more businesses make their products available through the internet.
eBay Store

If you are able to control all of your eBay listings from a single interface then you are simplifying the entire retail process. You will be able to maintain complete control over your retail orders. By taking advantage of the very best multi channel management software, you are able to maintain complete control over every aspect of your business, from controlling the amount of stock to each item's individual shipping cost.
MOTO (Mail Order & Telephone Order)
When you maintain a MOTO presence, you are able to accept orders over the telephone and via mail order, which gives your customers another channel through which they can interact with your online business.
The industry-leading Advansys multi-channel framework allows you to manage these orders from a central location as well.
Amazon Seller Central
Amazon is one of the highest grossing websites in the world, and offering your products through Amazon can massively increase the amount of orders that your business receives. Your company will also benefit from massively increased exposure, and will attract a greater amount of traffic to your business' brand itself.
EPOS (Electric Point Of Sale)
Integrating an EPOS system into your multi-channel platform will allow you to monitor and process any purchases which occur in your physical store. This can massively increase your control over the physical storefront of your business.
Rakuten Seller
When you choose to trade through Rakuten (previously Play.com), you are exposing your products to a vast audience, which allows your business to increase sales and to enjoy the benefits of additional promotion. Rakuten is one of the world's largest retail sites, and is second only to eBay in the potential for advertising and growth.