Cart Abandonment - How Do We Tackle It?
Cart Abandonment is a serious issue that plagues many online retailers. It can be caused by numerous issues ranging from website design, pricing model, delivery times, and more. So how can you tackle this issue, is hiring an eCommerce agency the answer to your Cart Abandonment woes?
First Things First - What Is Cart Abandonment?
In order to defeat the enemy that is cart abandonment, we must first understand it; so,what exactly is it?
As simply as possible, cart abandonment is when a site visitor loads up their shopping cart full of items, but then fails to complete the shopping process, instead leaving the website and visiting a different page.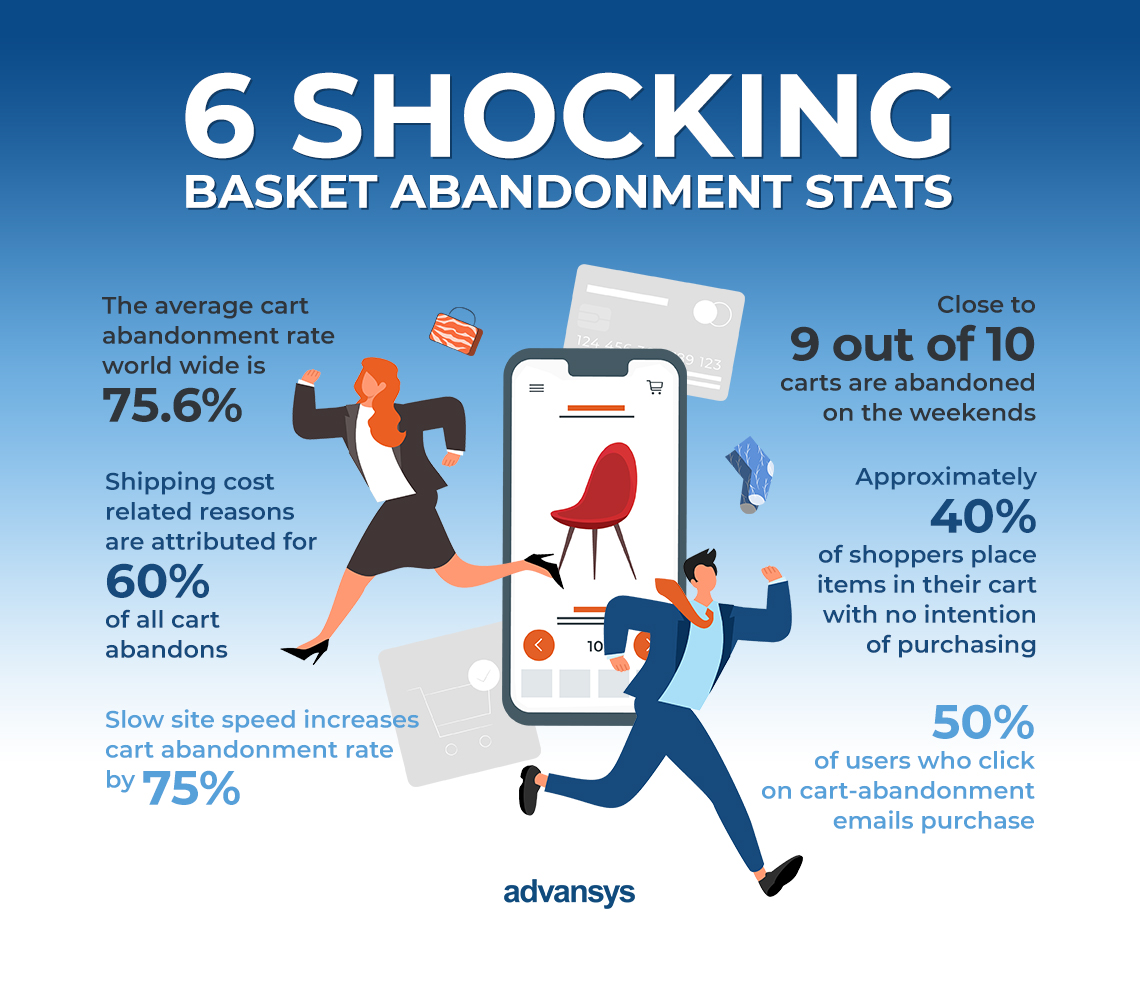 Just How Serious Is This Issue?
Whilst Great Britain may have a lower cart abandonment rate than the global rate, in 2019 the cart abandonment rate for Great Britain was 77.13%.This means that over three quarters of all shopping carts are abandoned. Additionally, when we look at the data regarding devices on which carts were abandoned, Mobile rates (80.79%) were significantly higher than desktops (73.93). That's a gap of over 6%!
So, with the potential to seriously increase your online sales, tackling cart abandonment is a very serious issue. Especially for retail businesses, as we previously discussed in our blog "Are We Witnessing The Demise Of The High Street?". So, what can be done, how can businesses take reach these potential customers and inspire them into completing their purchase, how can we tackle cart abandonment?
Tackling Cart Abandonment
Optimise Your Checkout Process
Your competition is quite literally everywhere. If your checkout process is confusing, too lengthy, or includes surprise hidden fees, you're going to lose customers.

There are many ways that you can optimise your checkout page, however the key is to provide as much information as possible without being difficult to understand. One superb feature in a checkout page is a progress indicator, informing the customer that they are on a clear 3 step progress of shipping info, payment details, then finally the review and place order page.

Additionally, don't forget to include a strong call to action on your checkout page. Whilst you may think a customer at the checkout page doesn't need to be motivated to purchase a product, remember the cart abandonment rates from earlier. As such, a strong call to action is needed, don't use phrases such as "continue" or "next", instead tell them what the next step is, Checkout, Shipping Info, etc, etc.
Establish Trust With Payment
When you're designing your checkout pages, you must establish trust with your customer. It's essential to a good checkout experience. So, when designing your checkout pages, it's important to offer multiple payment options, after all you don't want anything to come in between your customers and them completing their purchase. Credit and Debit card payments are your only options for online transactions, PayPal, Apple Pay, and Google Wallet are just a few payment methods you can add to your checkout to give your customers more choice, allowing them to use their preferred payment method.

Additionally, remember that when you ask a customer to provide their payment information, you're asking them to trust you with their personal information.If they aren't a returning customer, this can be quite difficult. As such, make sure that any and all trust security logos such as Norton Secured (which replaced VeriSign Secured) are clearly visible.
Your Delivery Costs
Another reason why customers may abandon their carts is due to the delivery cost associated with their purchase. If a customer isn't happy with the total cost including delivery, it's likely that they'll 'walk away from their cart' and look for a better deal elsewhere.

So if you're concerned that your delivery costs may be affecting your cart abandonment rate, there are lots of strategies you can implement to try and remedy the situation. For example, you could try using some split-testing strategies, such as discounted delivery cost codes being given to some customers via remarketing.
Allow Customers To Save Their Cart
This may seem counter-intuitive, after all we're trying to tackle cart abandonment, so why provide people with a motivation to leave the website without completing their purchase? However, by allowing customers to save their carts for later; you gain valuable information regarding the products they are interested in (very useful for digital marketing purposes), but you also provide your customer with a much smoother return process. After all, there are so many distractions online, from friends reaching out on social media, the latest list of 10 cats who look like celebrities, or real life getting in the way of your online shopping, and sometimes they're 'just browsing'; by providing your customers with an easy to use method of returning to complete their purchase when it is convenient for them, you're providing them with a much better service.
How Can An eCommerce Agency Help?
Here at Advansys,we are a world-leading eCommerce agency that has spent many years creating innovative platforms that allow our clients to get the most out of their online business. With over two decades of experience, the Advansys team have the skills and talents required to create websites that are fast loading and functional, catering to a diverse range of industries including those involved in retail. We can also help with regards to digital marketing. The Advansys team utilise professional SEO techniques, including an in-depth analysis of your entire website. However, if you would instead prefer to create your own content, we also offer high quality Search Engine Optimisation training.


Additionally, we understand the importance of data security in our 21st century society, after all your customers need to feel comfortable entering their banking information whilst purchasing online. So, to provide both your business and your customers with peace of mind, if you choose an eCommerce website developed by the Advansys team, you'll be choosing a business that has achieved the highest level of compliance certification with the Payment Credit Card Industry Data Security Standard; PCI DSS Level 1.
Get In Touch With Our eCommerce Experts Today

If you're interested in any of our eCommerce services, get in touch with a member of staff; we'll be happy to assist you with your enquiry and answer any questions you may have.
If you would like to speak to a member of our team, please call 0845 838 2700, our lines are open Monday to Friday 9 am to 5:30 pm. Alternatively you can send your questions to us by email at sales@advansys.com.
We're always happy to help and can help you take your business in the right direction.
You are always welcome to visit us in our Wokingham office or you can also call us on 0118 380 0201 and drop us a message via our the website.
We'd love to show you how you can get more web traffic and leads, increase your online sales, provide better customer service & grow online.
Find us
4 Millars Brook

Molly Millars Lane

Wokingham

Berkshire

RG41 2AD

United Kingdom