Is Cyber Monday overtaking Black Friday? What your website should be doing to prepare
You've probably heard of 'Black Friday' – the day (of 'weekend', as it is now!) a month before Christmas that sees stores run sales to attract bargain-hunting customers. While Black Friday has now transitioned online, there is already an established Internet equivalent that takes place the following Monday – Cyber Monday.
With COVID seeing online shopping becoming the new normal for big spending, Cyber Monday offers eCommerce traders an additional opportunity to win some much-needed custom. Here, we're going to take a closer look at Cyber Monday, its impact – and what you can do to prepare if your business is selling online.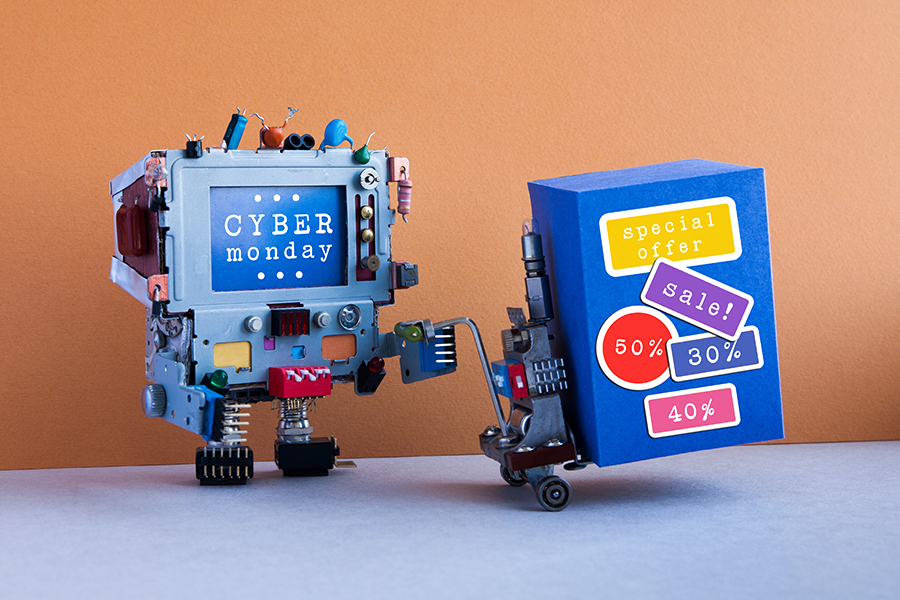 Why Prepare For Cyber Monday?
Cyber Monday has been a fixture on the online shopping calendar as far back as 2005, with its popularity growing ever since. For 2016,US software tech firm, Adobe, said that over $3.4bn was spent online during Cyber Monday – last year, with lockdown, that figure jumped to over $10bn. With the ease of buying that shopping online provides, it's likely that the figure will remain around the same levels this year as more people will be inspired by last year's situation to spend more time, hunting for bargains online.
It can be easy to think that Black Friday and Cyber Monday put the bigger retailers (who can afford massive advertisement campaigns) at a major advantage. It's important to know that online advertising has no boundaries – all retailers have an opportunity to promote their products to an audience that suits them.
Why are more people turning to Cyber Monday sales?
But, aside from the events of 2020, why have more people been turning to Cyber Monday? For many years now, an increasing number of people have been turning to online shopping – helped in large part by the heightened quality and ease of use provided by mobile phones and tablet devices.
People don't even have to sit at a computer to do theirs hopping now – in fact, mobile browsing accounts for MORE internet searches than desktop computers. This tells us that people want easier, more comfortable ways to shop – and there's nothing comfier than being able to shop from your couch.
Another reason (even pre-COVID) that people have been turning to Internet shopping around this time of year has been the avoidance of dealing with the rush of crowds and the chaos that ensues. Even Black Friday has been portrayed as some 'mad shopping event' where people have been known to physically push past others to get bargains. Shopping online from your couch avoids all that – so you can see why it's important that retailers are able to meet that demand.
Create Your Own Cyber Monday Strategy
If you run your eCommerce site, what should you be doing to prep are for the potential increase in traffic? Having a mobile responsive website is a must – with the amount of mobile browsing that occurs, it would be remiss of any online business not to have their websites optimised for phones.
Beyond that, here are some tips to prepare a Cyber Monday strategy:
· Place a focus on being discovered. As soon as any shopping event begins, people will reach for their devices to search for the best deals. Many will go to established online retailers and market places – although the likes of Amazon and eBay sell their own items, they have spaces for other retailers to create stores too. For a better chance of discovery, we recommend that you turn to these multi-channels to spread yourself as far as you can.


· Pull together the resources you already have. Starting from the base you already have is always a great idea; for example, ifyou have shopping cart software already integrated within your website, it will have tools that allow you to apply promotions across your product pages and other channels. You should also consider creating a specific Cyber Monday landing page on your site that details all your promotions/deals, with it being something you can easily advertise on social media.


· Are Google ads too expensive? Try e-mail marketing. The cost of decent spots for CPC (cost-per-click) ads are likely to soar at this time of year, so it's a good idea to consider other advertising channels too. Email marketing has a great return-on-investment, so ensure that you focus on sending compelling content to your database.


· Discounts and deals. Naturally, discounts will make or break your Cyber Monday strategy. While price discounts will be the most appealing, you should also consider things like free postage or free gifts. Offering markdowns or product bundles are a great way to move stock and encourage sales too.


· Place a focus on reviews. It should be kept in mind that many browsers will be visiting your site for the first time on Cyber Monday, so gaining their trust is vital. A great way to do this is by placing reviews from an external review site on your pages – your reviews from Amazon or Trustpilot, for example. They will have plugins that you can use – alternatively, you can take advantage of your increased sales by including a feedback tool that encourages customers to leave positive reviews.


· Be prepared for extra custom. Ideally, you would want your new customers, attracted by the Cyber Monday sales, to become regular visitors. So, it's important to ensure that they have a positive experience through high-quality customer service. Being accessible and responsive is the best way to do this; use a dedicated eCommerce helpdesk to allow customers an opportunity to ask questions – social media sites, such as Twitter, is ideal for this.
So that was our advice on being prepared for Cyber Monday! If you're interested in over hauling your website for the future of eCommerce, or you simply need some extra online marketing advice, why not get in touch with the expert team here at Advansys today?
Advansys: High-Quality Mobile-Friendly Website Design
For many years now, we have been creating bespoke websites for a wide range of business operations – from new start-ups, looking to make their mark in their industry to vastly experienced businesses, seeking to reimagine how they portray their services online. Having 'been there and done that' we cannot stress enough the importance of a modern business to possess a responsive website.
If you're interested in learning more about how responsive e-Commerce websites can help your business to showcase and sell its products/services on Black Friday, Cyber Monday or any other day of the year, then please do not hesitate to give us a call today on 0118 380 0201. Alternatively, you can reach us by e-mail at sales@advansys.com
We're always happy to help and can help you take your business in the right direction.
You are always welcome to visit us in our Wokingham office or you can also call us on 0118 380 0201 and drop us a message via our the website.
We'd love to show you how you can get more web traffic and leads, increase your online sales, provide better customer service & grow online.
Find us
4 Millars Brook

Molly Millars Lane

Wokingham

Berkshire

RG41 2AD

United Kingdom